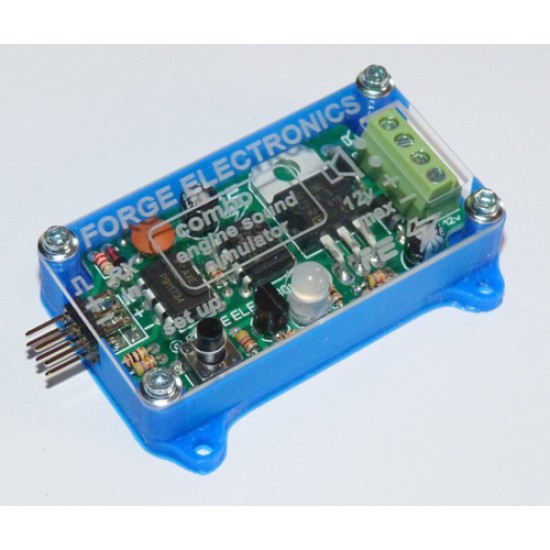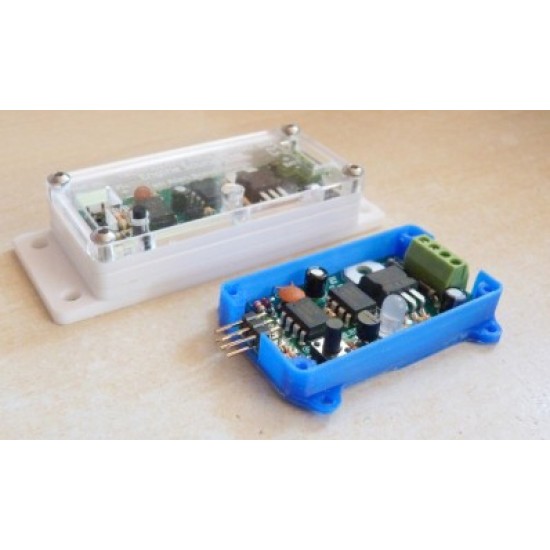 New Hot


Combo Sound Unit Mk 3
This engine sound simulator is  principally intended for radio controlled model boats but has also found application in trucks, tanks, cars, rock-crawlers and even aircraft.
The MK3 is functionally identical to the MK2 but packaged in a smaller, lower profile 3D printed case. This marks an amicable agreement with Technobots (the original distributors of my design) to market the unit myself under the Forge Electronics brand - a company I founded in 2012 to market my model aircraft related products.
At this juncture, I have decided to discontinue the separate petrol/diesel/steam variants and just offer the combo version which incorporates all three types - with the benefit that additional petrol/diesel sounds and many more user adjustments are available for a small extra cost. 
A wide range of adjustments are user accessible via a simple system utilising a push button on the unit in conjunction with the transmitter's throttle joystick (see the bullet points below). The red/green LED indicates both the neutral and the run conditions and pulses in sympathy with the engine speed when the latter is running.

Users can set the unit to match both the neutral and span parameters of their transmitter joystick anywhere within its 1-2mSec range thereby accommodating forward only systems and pistol type controllers with a 70/30 forward/reverse range.
A further feature is the 'Demo' mode which is of use in static displays at exhibitions. This allows the model's sound capability to be demonstrated without passing the throttle signal through to the model's ESC – instead, a neutral (stop) signal is sent to the ESC
In Brief
9 different engine 'voices' to choose from - 8 'petrol/diesel' and 1 'steam
automatic throttle activated start/stop
start-up and run-down sounds ('petrol/diesel' only)
simple user adjustment of
o  tickover 
o  top speed 
o  idling timeout period 
o  engine 'voice' 
o  cylinder count 
o  neutral 
o  span
'demo' mode
bi-colour LED indicates neutral and run conditions
Example Sounds

I've made an example of each of the eight 'petrol'/'diesel' sounds plus the 'steam' - remember that the tickover and top speed can be set to suit your preferences and that for each voice there are four more cylinder count variants to try. If you are listening on a laptop, tablet or even worse a smartphone, expect to be disappointed as the punchy bass of a decent size speaker is required - otherwise they can sound like a woodpecker on steroids!
View/Download:


.
Stock:

5

Model:

FE07 Combo Sound Unit

SKU:

FE07 Combo Sound Unit